Trekking in Ait Bougmez Valley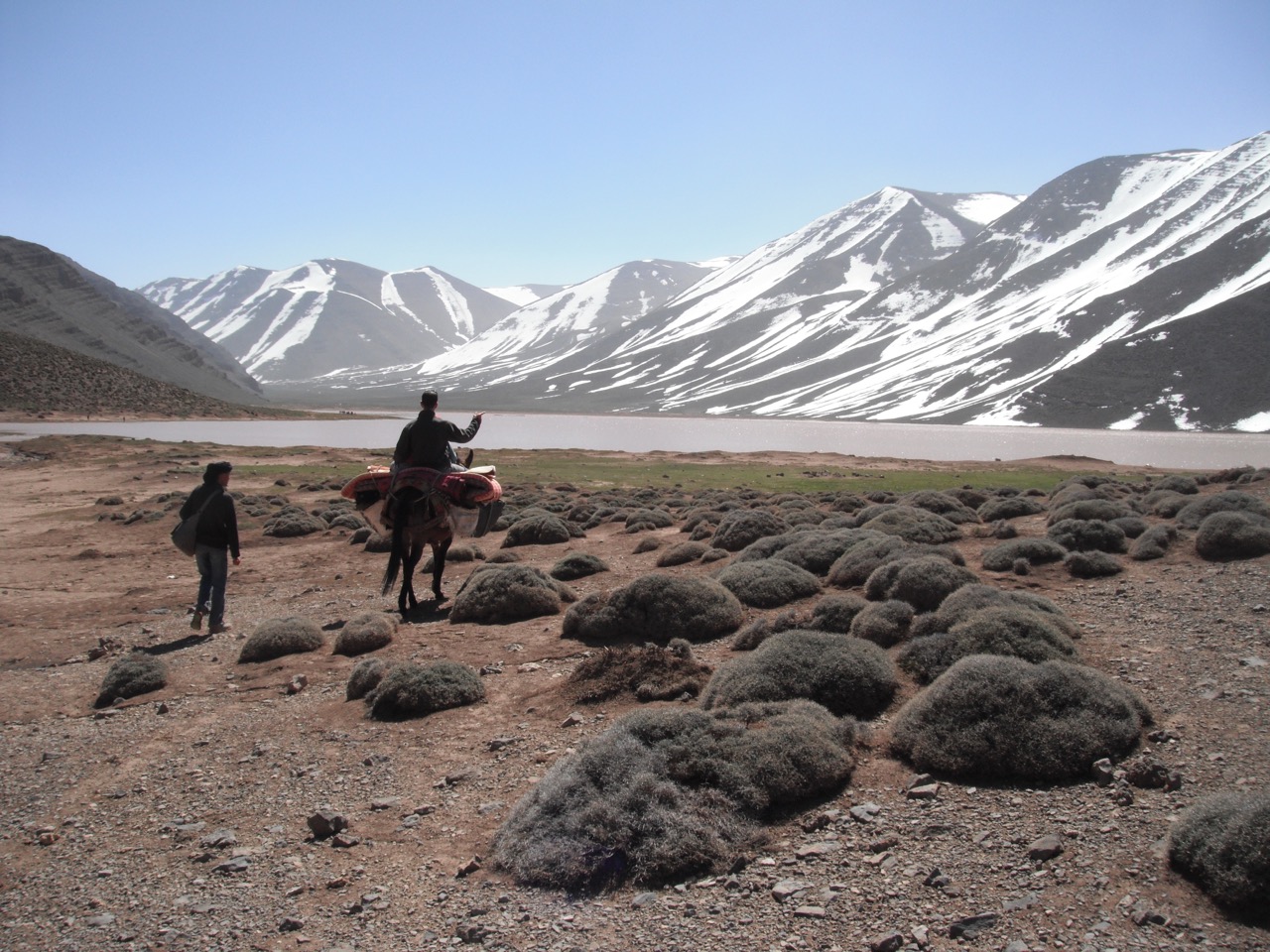 After just a few hours we've reached the final destination. The trek through the Ait Bougmez Valley seemed quite easy in comparison to the two-week journey the Ait Atta nomads take each year to graze their herds in the vast open field at the foot of Lake Izouara at the base of Jebel (Mount) Azourki.
We started our ascent from Touda EcoLodge before the sun was at its peak. Switching back and forth through the scrub, the lodge disappeared in to the distance and we are afforded stunning views of the 18-kilometre valley. Snow-capped mountains soar above the rolling hills that descend to lush green valleys that provide farmland to the locals. I learn that each family is allocated a plot of land where crops are grown for personal consumption with a centuries-old irrigation system.
We take a turn to the left, leaving the valley behind, a mule leading the way while carrying the supplies we would need for our picnic. We cross little streams replenished as the sun beats down on the snow-capped mountains. We make a few more twists on the dirt track and eventually reach a barren field, surrounded still by the soaring Atlas Mountains, but with the sound of the gentle waves of the glacier lake.
We set down our matts to enjoy the views when Ahmed, one of the friendly faces from Touda EcoLodge, appears out of nowhere with a tray of hot tea. It shouldn't really feel like it was out of nowhere, we've been sipping tea since we arrived, but as we were surrounded by all this natural beauty, it was unexpected.
But we're not alone. A group of adolescent boys have also made the trek where they are enjoying playing football and preparing a tagine in full nature. I cannot help but think to myself, no electronic devices, no televisions; these children are richer than they think.
As we sit, Said explains that as the summer months approach, this area will be filled with Ait Atta nomadic families grazing their flocks where water is in abundance, before travelling south for the winter months. The two-week journey from the Sahara Desert across the High Atlas Mountains sounds treacherous to a Westerner who isn't used to this kind of life. We ask questions about the nomadic life, one that seems to be disappearing and certainly not without its challenges given changing climates. To truly appreciate the experience, Said organizes for travellers to join in the expedition.
After a picnic lunch, we packed up the straw saddlebags and made our descent back through the deserted plateaus into the lush green fields and back up to our home, Touda EcoLodge.